Inclusion Quality Mark (IQM) Centre of Excellence Award
Castle Hill Academy is very proud to be an Inclusion Quality Mark (IQM) Centre of Excellence. The school achieved this award following a rigorous assessment in the summer of 2021.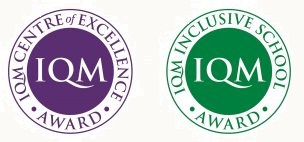 What is the IQM?
The Inclusion Quality Mark provides schools with a nationally recognised framework to guide their inclusion journey. The IQM team help schools evaluate and measure how they are performing, empowering them to improve and develop.
IQM states that inclusion promotes equal opportunities for all pupils, whatever their age, ethnicity, attainment and background. It pays particular attention to the provision made for, and the achievement of, different groups of pupils within a school.
Inclusion is at the heart of what we do at Castle Hill Academy and the IQM is recognition of the outstanding contribution of all at the school: pupils, parents, staff, trustees and local partners.
The school was inspected under this framework and is proud to be an Inclusion Quality Mark Centre of Excellence following the assessment.
What is a Centre of Excellence?
Becoming a Centre of Excellence enables member schools to come together to share and build on inclusion best practice. It is an opportunity to build on the success achieved.
Only around 240 schools in the UK have met the standard required to become an IQM Centre of Excellence for outstanding practice in inclusion.
The school now aims to achieve the IQM Flagship Award, which is only achieved after holding the Centre of Excellence status for at least 3 years. We look forward to continuing our development as an inclusive school and becoming a flagship school in the near future.
For our press release, click here.
IQM inspector: "High expectations are the norm at Castle Hill Academy, with pupils receiving a diet of a variety of learning experiences with the aim of helping pupils to exceed these expectations."